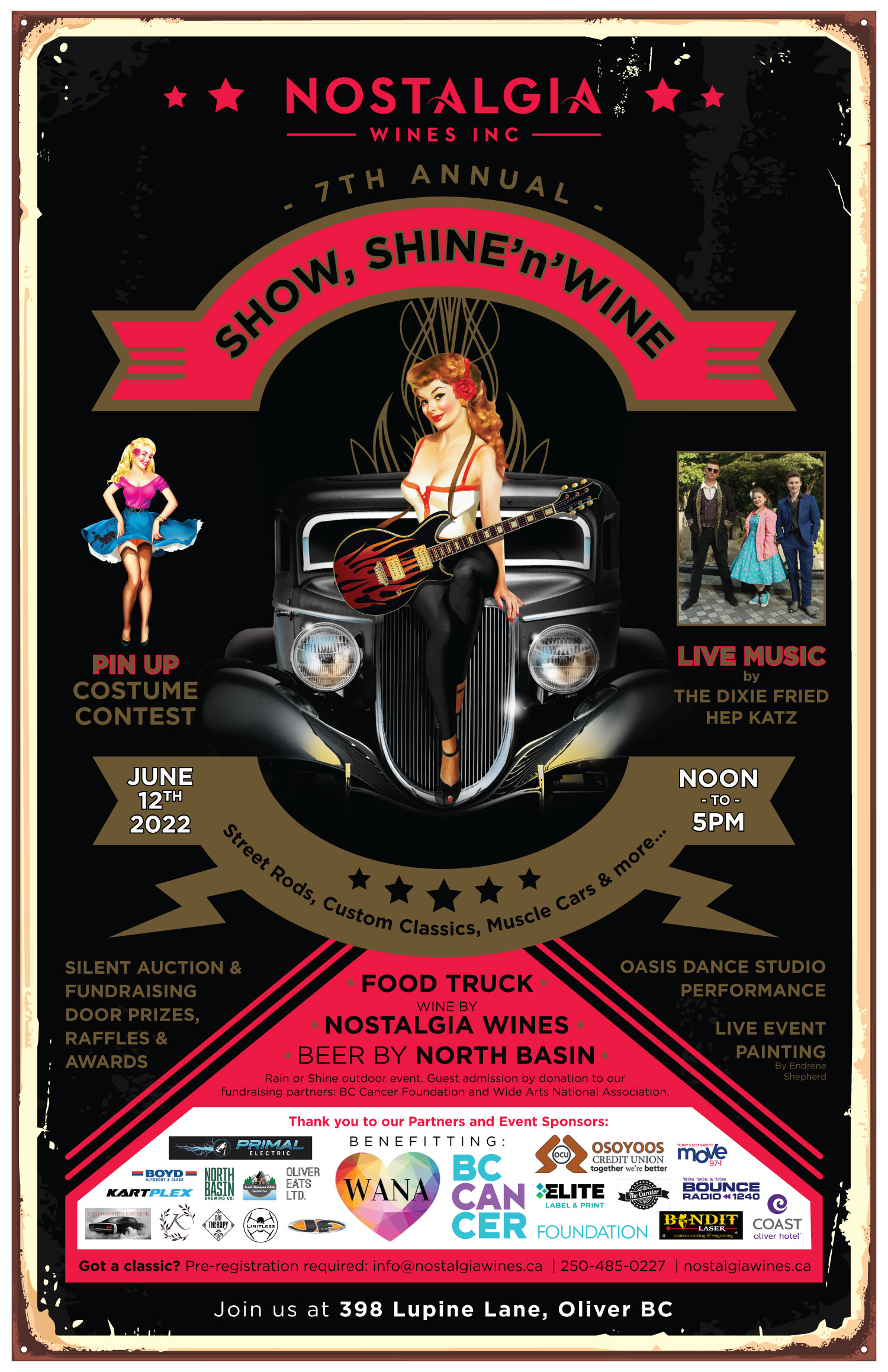 7th Annual Show, Shine 'n' Wine is Sunday June 12, 2022
Save the date!
After a two year hiatus, Nostalgia Wines (formerly Oliver Twist Estate Winery) Show, Shine 'n' Wine is back!
Join us Sunday, June 12, 2022 from noon to 5pm for a fun day of street rods, custom classics, muscle cars and more!
We will have live music from rockabilly band The Dixie Fried Hep Katz, a food truck, a drinks garden by North Basin Brewing and Nostalgia Wines, our always-entertaining Pin Up Girl Contest, and fundraising for local charities. Come prepared to support these fundraising efforts through a silent auction and other prize draws!
We look forward to seeing you at Nostalgia Wines June 12!!
In Detail:
Pre-Registration of Classic Cars – FULL – call winery for cancellation opportunities
You must pre-register to participate with your classic car in the 7th Annual Show, Shine 'n' Wine at Nostalgia Wines. All cars registered must be eligible for collector plates.
We like to make it easy and flexible, so you can pre-register a few ways:
Drop by the winery (398 Lupine Lane in Oliver, BC) and do it in person with pen and paper! Pay by cash, debit, Visa, Mastercard.
Call the winery at 250-485-0227. You can pay by Visa/Mastercard over the phone. Sheila can email you the registration form to complete, or help you complete it over the phone.
Your $20 registration includes the following:
Complimentary white or rosé 5oz wine
10% discount on wine purchases June 12, 2022
Entry for 'registered cars only' door prize from Boyd Autobody
Eligible for awards!
Parking in the designated "Car Show" area
You will register with Sheila on June 12 when you arrive at the winery, and she will have a welcome package for you!
If you have any issues, call 250-485-0227 or email the winery and we'll help you! [email protected]
Note: If you would like to attend as a guest, there is no need to pre-register. Pre-registration is for classic, collector cars participating in the show ONLY.
Come As a Guest – Entry By Donation – Door Prize – Guest Parking
Entry for guests to the Show, Shine 'n' Wine is by donation to our charitable partners, with a suggested $5 per person. With your entry donation you can enter to win a door prize from Nostalgia Wines and North Basin Brewing!
We will not be taking any reservations for June 12, it will be first come, first served. Please check in with our hostess when you arrive to be get on the list for a Memorable Wine Experience.
Our picnic area will be open for those who want to have a glass of wine or North Basin beer — there will be an outdoor bar with walk-up service. Credit/debit is available for the outdoor bar, but cash is king and will help you avoid a line up! Seating is available, and you are welcome to bring your own lawn chairs or picnic blanket, should our seating be full.
Guest parking will be in our vineyard. We will have parking attendants to guide you to a spot, keep an eye out for them!
Hot Tips – What to Bring
Cash (for entry by donation, outdoor bar, raffle tickets, etc)
Lawn chairs or a blanket to sit and listen to the Dixie Fried Hep Katz
Your pin-up fashion – costume competition at 3pm
A sweater/jacket and sunscreen – event is rain or shine!
Your children – family-friendly event
Your appetite (food truck on site)
A designated driver
A positive attitude and best cheers for all the performers!
Meet our Charitable Partners
As a family business, we like to support causes close to our hearts. Accordingly, this year we are supporting the BC Cancer Foundation's Tour de Cure.  A local cyclist will be at our event to raise cancer awareness and funds. In 10 years, the BC Ride has raised over $96 million to support more than 47 world-leading research projects underway at BC Cancer, advancing care and providing hope to the 77,000 people facing cancer across British Columbia.
We will also be supporting Wide Arts National Association. Its mission is to actively create and deliver a wide array of arts and culture experiences to foster the health, development, appreciation, understanding and enrichment of community in the South Okanagan.
Pin Up Costume Competition
Dress in your best and take part in the fun at our 7th Annual Show, Shine 'n' Wine!
Those dressed in 1940s – 1950s era fashion will compete for a fabulous prize — dinner out (restaurant gift card) from our friends at Primal Electric!
The competition starts at 3pm. No registration is required, just be dressed and ready to impress at 3pm!
The Dixie Fried Hep Katz
Get excited for 100% Pure Canadian Rockabilly music, live at Nostalgia's Show, Shine 'n' Wine!
Dixie Fried Hep Katz got the name from two old school slang terms: "let's get Dixie Fried" meant let's get drunk, and a "Hep cat" was a cool, stylish person.
The band will play three sets over the course of the afternoon, starting at 12:30, 2pm and 4pm.
Thank you to our music sponsor, Osoyoos Credit Union!
Other Artistic Performances
We will be graced by a couple of dance numbers from the talented team at Oasis Dance Studios in Osoyoos.
Endrenè Shepherd will be on site to do live event painting, capturing the classic cars and pin up style on canvas!
We'll also see a fire dancing performance and enjoy face painting for kids of all ages!
Food and Drinks 
We will welcome the I ❤️ My BFF food truck (BFF stands for Burgers and French Fries) for the afternoon. Join us for lunch!
Nostalgia Wines will be available by the glass and bottle to enjoy in the picnic area. Want to have a Memorable Wine Experience with us? Awesome! Check in with our hostess June 12 and she'll get you on the list to taste some wines with one of our talented and charming Wine Experience Associates. Memorable Wine Experiences are limited to 25 minutes on June 12th, to allow for all visitors to be served. Learn more about our experiences here. Our store is open all day, we welcome you to stock up on wine for your home and make memories with us!
Craft beer will be on tap from our friends at North Basin Brewing in Osoyoos.
A variety of deli snack items, soft drinks and bottled water will be available for sale in our wine shop.
Please come prepared to drink responsibly and plan for a safe ride home.
Silent Auction
Our friends and neighbours were quick to support our charitable partners at this fundraising event. Here's a sneak peek at the awesome items you can bid to WIN the silent auction:
We thank all our silent auction supporters for their help raising money for our two deserving charitable partners! Come to the event prepared to bid on these fabulous items!
Additional Event Sponsors & Partners
Thank you to all who are helping us bring this fantastic, fun-filled day together. It truly takes a village! Big hugs from team Nostalgia to all our supporters:
Schedule for June 12:
10am – front gates open for car show parking
12:00 – Event kick off
12:30-1:30 – Dixie Fried Hep Katz – Music Set 1
1:30-2:00:
Car Show awards 1-6
Oasis Dance Studio Live Dancing spotlight
Car Show awards 7-12
2:00 – 3:00 – Dixie Fried Hep Katz – Music Set 2
3:00 – 3:15 – Pin Up Costume Competition
3:15  – Door prizes & Raffle draws
3:45 – Last call for Silent auction, prizes awarded
4:00 – 5:00 – Dixie Fried Hep Katz – Music Set 3
5:00 – Event wrap up
5:30 – winery closes
We look forward to seeing you at Nostalgia Wines June 12!!