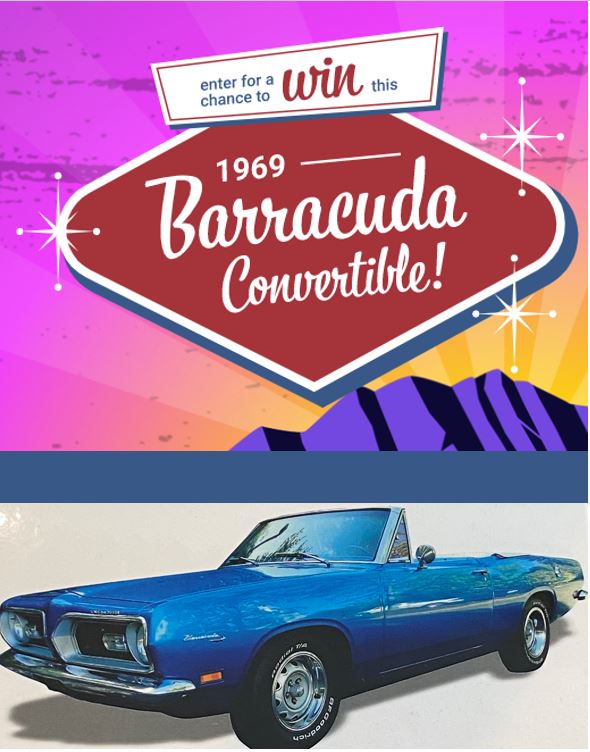 Join us Saturday, August 14th for Classic Cars and Lunch!
We've partnered with Habitat for Humanity to promote their awesome fundraiser, with the coolest automotive prize! Join us at Nostalgia Wines on Saturday, August 14th to see the prize car in person from noon to 4:00 pm.
A refurbished 1969 Barracuda Convertible was built from the valiant platform and is an all original vehicle, with the approximate value of $60,750. Rust Bros completed the refurbishment.
Proceeds of this charity raffle will support Habitat for Humanity Kamloops and its mission to build affordable housing for seniors, veterans and families throughout the service area.
Bring $25 cash to buy tickets from our team in the wine shop, or click to buy tickets online!
While you're here, grab a delicious flatbread from Crave Creative Kitchen food truck! You can enjoy your flatbread during your Memorable Wine Experience in our cushy cabanas, or get a chilled bottle of wine for the picnic area with your lunch from Crave!
The picnic area is first come, first served, while you can make reservations for Memorable Wine Experiences by calling 250-485-0227 or emailing [email protected].
Do you have a classic vehicle? Saturday is the perfect day for a cruise to Nostalgia Wines! Let's Show, Shine and Wine!!