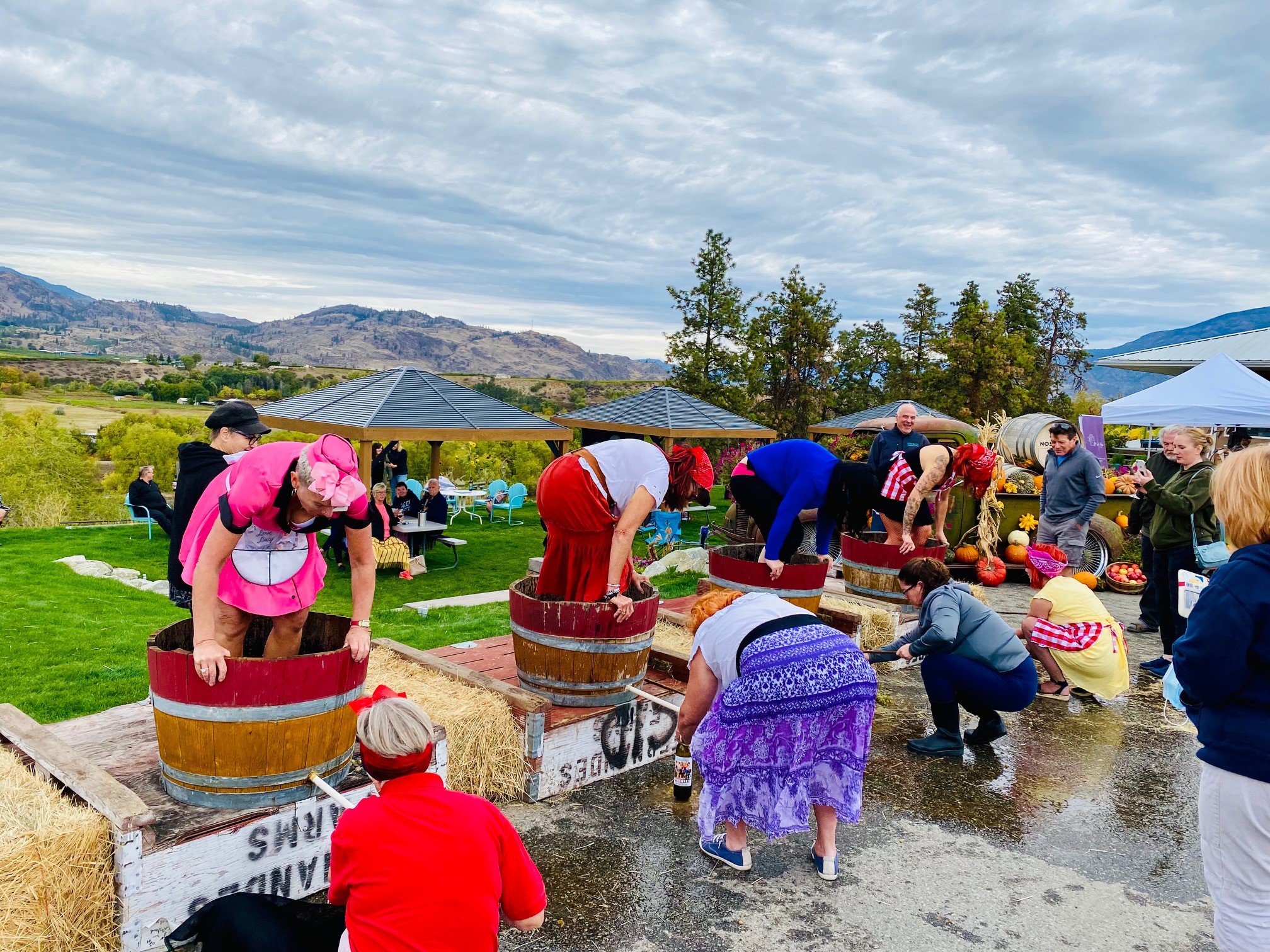 Nostalgia Wines 5th Annual Crush Party
We'd like to invite you to our Grape Stomp at Nostalgia Wines' 5th Annual Crush Party! Join us Saturday, October 1st at Nostalgia Wines (398 Lupine Lane, just south of Oliver, BC) from noon to 5pm for an action-packed day!
Now is the time to sign up for the 2022 Grape Stomp Competition! Who's ready to get dirty? Note: Grape Stomp registration is now SOLD OUT.
There are many ways to take part in our Crush Party, and stomping grapes is just one option. You can also participate in the costume competition, where we have a prize for the best dressed Lucille Ball (or Ricky Ricardo). Remember the I Love Lucy episode where she stomped grapes? That's what we're looking for! Judging will be at 3pm.
In addition to the grape stomp and costume competition, we'll be hosting local rockers Rebel Luv for live music all day and spectators are welcome. I 
My BFF food truck (burgers and french fries) and Bo Betty's food truck will be here, and we'll have a Nostalgia Wines and North Basin Brewing drinks garden. You can also shop ultra local in our artisan market, featuring local edibles, wearables, and crafts.
Through this event, we'll be raising money for Wide Arts National Association, supporting local arts experiences. Jenn Bruyer will be soaring above us with aerial dance performances, we'll have more surprises to share as the date comes closer. Lots of fun is in store!
Join us October 1st to have lunch, enjoy local wine (or craft beer), listen and dance to live music, view artistic performances, shop artisan goods, and celebrate harvest with the grape stomp action, all while supporting the arts! This action packed event will have something for everyone, including a Little Feet Stomp for kids at 3:45. The Little Feet Stomp is impromptu, and kids are welcome to hop in and try stomping grapes.
The Event in Detail:
Come As a Guest – Entry By Donation – Door Prize – Guest Parking
Entry for guests to the Crush Party is by donation to our charitable partners, with a suggested $5 per person. With your entry donation you can enter to win a door prize from Nostalgia Wines!
We will not be taking any reservations for October 1st, it will be first come, first served. Please check in with our hostess when you arrive to be get on the list for a Memorable Wine Experience.
Our picnic area will be open for those who want to have a glass of wine or North Basin beer — there will be an outdoor bar with walk-up service. Credit/debit is available for the outdoor bar, but cash is king and will help you avoid a line up! Seating is available, and you are welcome to bring your own lawn chairs or picnic blanket, should our seating be full.
Guest parking will be in our vineyard. We will have parking attendants to guide you to a spot, keep an eye out for them!
Hot Tips – What to Bring
Cash (for entry by donation, outdoor bar, raffle tickets, etc)
Lawn chairs or a blanket to sit and listen to the band
Your I Love Lucy fashion – costume competition at 3pm
A sweater/jacket and sunscreen – event is rain or shine!
Your children – family-friendly event and kids can join the grape stomp at 3:45pm
Your appetite (food trucks on site)
A designated driver
A positive attitude and best cheers for all the performers and competitors!
Meet our Charitable Partners
As a family business, we like to support causes close to our hearts. Accordingly, we will be supporting Wide Arts National Association. Its mission is to actively create and deliver a wide array of arts and culture experiences to foster the health, development, appreciation, understanding and enrichment of community in the South Okanagan.
I Love Lucy Costume Competition – 3pm
Dress in your best and take part in the fun!  Remember that episode where Lucy stomped grapes? That's what inspired our costume competition. The winner receives a delicious gift from Nostalgia Wines!
The competition and judging starts at 3pm. No registration is required, just be dressed and ready to impress at 3pm!
Rebel Luv
Get your dancing shoes shined up for Rebel Luv! These local rockers know how to get a crowd engaged and on their feet. Rebel Luv will play many short sets to keep us dancing throughout the afternoon.
Food and Drinks 
We will welcome the I ❤️ My BFF food truck (BFF stands for Burgers and French Fries) and Bo Betty's food truck for the afternoon. Join us for lunch!
Nostalgia Wines will be available by the glass and bottle to enjoy in the picnic area. Want to have a Memorable Wine Experience with us? Awesome! Check in with our hostess and she'll get you on the list to taste some wines with one of our talented and charming Wine Experience Associates. Memorable Wine Experiences are limited to 25 minutes on event days, to allow for all visitors to be served. Learn more about our experiences here. Our store is open all day, we welcome you to stock up on wine for your home and make memories with us!
Craft beer will be on tap from our friends at North Basin Brewing in Osoyoos.
A variety of deli snack items, soft drinks and bottled water will be available for sale in our wine shop.
Please come prepared to drink responsibly and plan for a safe ride home.
Artisan Market – Open from 10:00 am
Come out to support local artists and check out their wares! The artisan market will include the following vendors:
The Lake Village Bakery
Curator Designs
Earth Ventures Jewellery
A Bit Folky Pots
Tania's Art Cards
Astrological Readings by Ignite Your Soul Astrology (bring your place, date and time of birth for the most accurate reading)
Schedule for October 1:
10am – Winery and Artisan Market Open
12:00 – Event kick off with Rebel Luv!
12:30-12:45 – Grape Stomp Heat #1
Competitors: Grape Stompin' Grannies vs Fine Winers vs Fermented Fruits vs Tipsy Toes vs Beach and Winers
12:45 – Visual Performance Spotlight featuring Arial Dance by Jenn Bruyer
1:00 – 1:15 – Grape Stomp Heat #2
Competitors: The Grape Grandma's vs On Cloud Wine vs  Big Deal vs Rhonda
1:15 – 2:00  – Rebel Luv
2:00 – 1:15 – Grape Stomp Heat #3
Competitors: Juicy Lucys vs Couil CRUSHERS vs Bromley's Bunghole vs Bottle Crushers vs Lov'n Lucy's
2:15 – 2:45  – Rebel Luv
2:45 – 3:00 – Grape Stomp Heat #4
Competitors: Daisy Pink Boutqiue vs The Grapists vs Fourtylicious vs Cork Soakers
3:15 – 3:45  – Rebel Luv
3:45 – 4:00 – "Little Feet" Kids Grape Stomp (impromptu, no registration required. Jump in!)
4:00 – Raffle Draws
4:15 – 4:45  – Rebel Luv
4:45 – Grape Stomp FINAL!
5:00 – Event wrap up
5:30 – winery closes
We look forward to seeing you at Nostalgia Wines Saturday, October 1, 2022!!