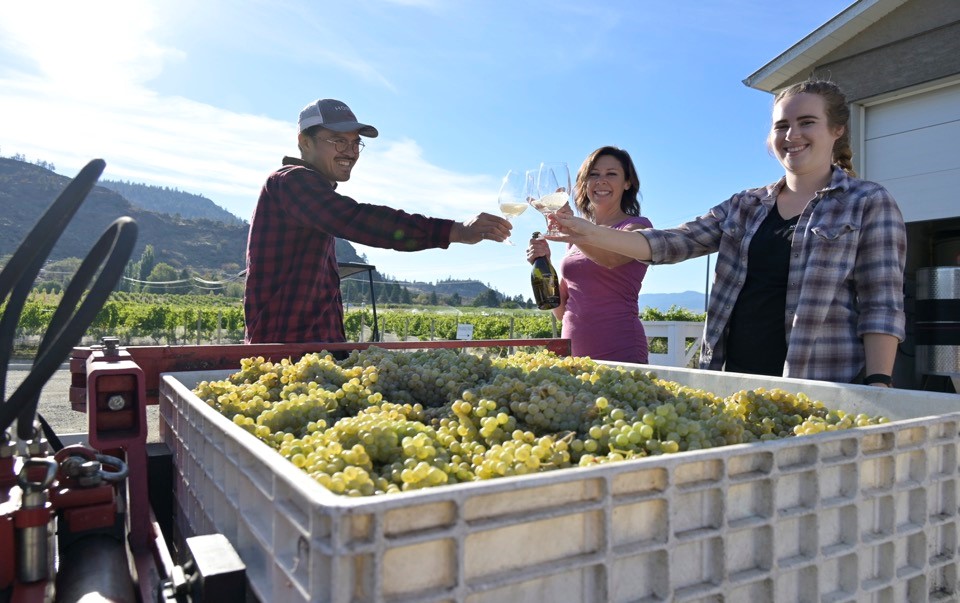 We're Hiring an Assistant Winemaker
Position: Assistant Winemaker
Status: Full-time, salaried position
Reports To:  General Manager
Supervisor To:  Seasonal cellar staff
About Nostalgia Wines: A visit to the Black Sage Bench can double as a trip down memory lane at Nostalgia Wines, a family-owned, boutique winery, just south of Oliver, established in 2006. We craft fruit-forward, luscious whites and full, juicy reds, in addition to sparkling and port-style wines from our small, 14-acre estate vineyard. At Nostalgia Wines, we warmly welcome, educate, and advise wine lovers about how to enjoy expanding their wine journey and cellar.
About the Nostalgia Wines Team: It is important to us that we find a colleague we can trust, who is eager to support their teammates and the business and want to have fun at work every day! We are a small team, we work together closely in all areas of the business, and we are all dedicated to continuing improvement.
Description: This role's focus is to be active in all areas of production. The Assistant Winemaker is responsible for winemaking duties including driving the established wine styles, keeping the cellar in order, grape and wine quality checks, bulk wine inventory, ordering supplies, in-house lab testing, and maintaining grower relationships.
Main Responsibilities:
Grape processing: Grape and juice reception, de-stemming, crushing, and pressing
Fermentation management: Inoculations, nutrient additions, sampling, pump overs, punch downs, sugar and temperature monitoring, and digging out of fermenters
Cellar work: Barrel work, racking, product transfers, product blending, product additions, filtering and bottling
Cellar sanitation: Tank & barrel cleaning, and general cleaning of facility and winery equipment
Follow all safety procedures as directed by standard operating procedures
Work order completion and compliance
Safe operation of cellar forklift and other winery equipment (training provided).
Reporting:
This position is responsible for reporting excise duty (bulk), monthly wine inventory (bottled), maintaining notes in an online shared cellar log, and for tracking wine production costs. The successful candidate should be computer literate and comfortable using Excel.
Other duties if needed:
There are occasions when the assistant winemaker will represent Nostalgia Wines at outside events. The assistant winemaker may also support the hospitality team in the tasting room when the need arises.
Characteristics of a Successful Nostalgia Assistant Winemaker:
As we are a boutique winery, the team here is small. The assistant winemaker will be comfortable as a hands-on worker in the cellar year-round, comfortable working alone (cellar hands work Oct-Dec only), and a self-starter with capability to prioritize. During harvest, the assistant winemaker will oversee a small cellar team, and should be comfortable training and guiding the cellar hands.
Outputs Expected:
The assistant winemaker helps to create award-worthy wines that Nostalgia Wines will be proud to share. S/he is expected to maintain a weekly work order completion checklist for all operations.
S/he must be able to work flexible hours throughout the year, based on demand.  S/he maintains open and constant communication with owner and GM, including meeting to communicate wine styles, sales, projections, budgets, etc.
Schedule:
The employee is expected to work 40 hours weekly. As harvest and bottling times can vary schedules to more than a regular work week, days off will be compensated at a later date, as agreed to by both the Employer and the Employee.
Wages dependent on experience and education.  Please apply via email with resume and cover letter to [email protected]. We wish to thank all applicants for their interest; only those applicants selected for an interview will be contacted.