12 Days of Christmas Shopping at Nostalgia Wines this Winter
We want to make it easy for you to support local artisans and shop local this holiday season.
Introducing the 12 Days of Christmas Shopping at Nostalgia Wines!
Nostalgia Wines in Oliver has partnered with local artists to give them a retail space this holiday season. Join us for a Memorable Wine Experience while you browse! We also make fabulous gift baskets and we offer complimentary giftwrapping of Nostalgia Wines bottles.
Nostalgia Wines is open all year and ready to help you prepare for Christmas! Join us from Tuesday through Sunday from noon to 4pm. We're open until Christmas Eve at 4pm for all your holiday wine needs!
Nostalgia's address is 4900 Black Sage Road, but we have two entrances to the winery. In case of snowy weather, we recommend taking Highway 97 to Road 9, and entering our property through the lower entrance at 398 Lupine Lane, which is fully paved and should be plowed by BC Highways.
Featured artisans for the 12 Days:
Day 1 is Saturday, November 18, 2023 – Holiday kick off with Santa! Come to meet the big guy in red and get a photo.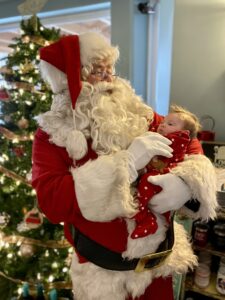 Day 2 is Sunday, November 19, 2023 – JJ's Fine Chocolate
Local chocolatier Judy Patry creates small batches of incredible chocolates and truffles that you're going to die for. Naughty or nice, every stocking should include a set of Judy's Fine Chocolates!
Day 3 is Saturday, November 25, 2023 – Bridge Lake Wood Company 
As one of the pioneers of the log house industry in 100 Mile House, wood, and creative use of wood in his projects has been a focus.Over the last few years they have refined their focus to include charcuterie boards. All our hardwoods are Prime Grades or better, kiln dried, cabinet quality.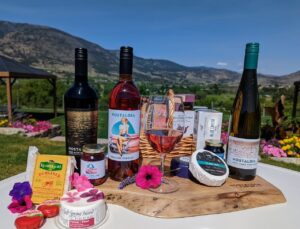 Day 4 is Sunday, November 26, 2023 – Roshni Wellness
Roshni Wellness creates premium scented candles that inspire moments of connection and aim to bring love, light and joy to your space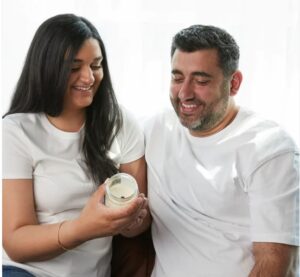 ALSO ON SUNDAY, Nov 26: Krusty Joe's Pizza will be making fresh pies! You can stay for lunch or order and take your pizza home.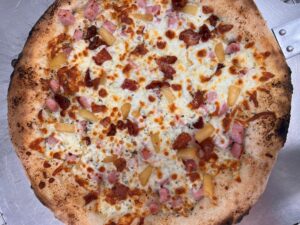 Day 5 is Saturday, December 2, 2023 – JCI Designs Jewellery
Cailey makes these ploymer clay designs in Lake Country BC, when she's not busy as a mother, wife and nurse! There are so many colours and designs to choose from, you are sure to find the perfect gift.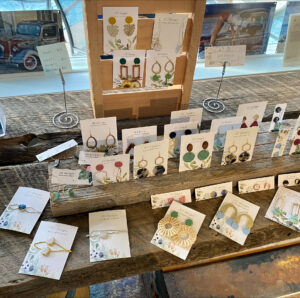 Day 6 is Sunday, December 3, 2023 – Desert Rose Living
Visit to check out Kelly's local, homemade candles.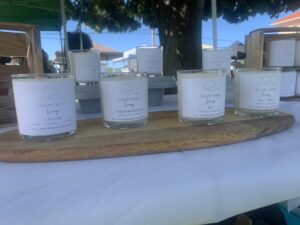 Day 7 is Saturday, December 9, 2023 – Lone Willow Wine Jelly and The Bar handmade soaps
Add some excitement to your holiday spreads with locally made wine jellies! The wine is made here at Nostalgia, and transformed into delicious jellies by Lone Willow in Oliver.
Wash off your sticky fingers with The Bar handmade soaps. Jennifer makes the artisan soaps in Penticton, all with a fun bar/drink theme.
Both are ideal stocking stuffers!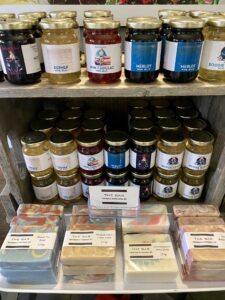 Day 8 is Sunday, December 10, 2023 – Fillosophy Refill Bar
Fillosophy is a zero-waste market focused on sustainable practices and providing an ecosystem of local makers, organic refillable home and beauty products and plastic-free alternatives to the South Okanagan.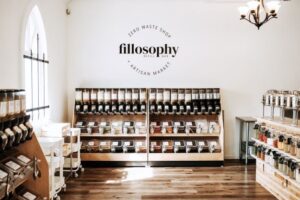 Day 9 is Saturday, December 16, 2023 – Loper & Haas
Loper & Haas pieces are designed for daily life and will take on character with use, developing a patina that can only come from a life well lived.Each piece is handcrafted from start to finish in Levi's small Osoyoos studio. Every detail is carefully considered, from executing the signature hand stitching to selecting the best quality leathers, to ensure the level of craftsmanship and quality for which Loper & Haas is known. This meticulous process is reflected in the finished products, which proudly bear the mark of the maker's hand.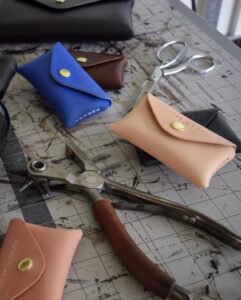 Day 10 is Sunday, December 17, 2023 – Shelby & Jun
Shelby & Jun Woodworking is Jennine's small business, creating fun and bright wood signs, tree ornaments, crib boards, charcuterie boards, and all things wood.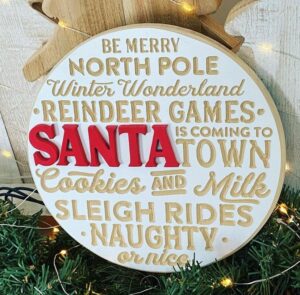 Day 11 is Saturday, December 23, 2023 – Vineyard Candle Studio
We have worked with Connie at Vineyard Candle Studio in Kelowna for years, and we love her and her amazing candles!
To keep the memory alive of many memorable wines, repurposing the bottles into a candles seemed to be the next natural step for her. Each and every one of Connie's candles are hand cut, sanded, small batch poured with 100% soy, coconut and  beeswax and then gently scented.
You'll have to visit to smell for yourself! We have five different glass/label designs, three colours of wax, five regular scents and six seasonal scents.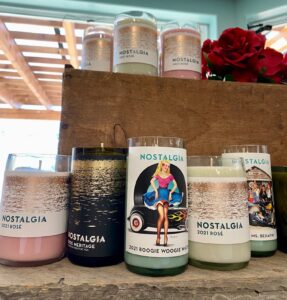 Day 12 is Sunday, December 24, 2023 – Provisions Food Company
Provisions Food Company is a specialty food brand. For the past decade, its passionate team has handcrafted condiments, shortbreads, seasonings, and more in our small-batch production kitchen. Our products are inspired by the local vineyards, orchards, and farms.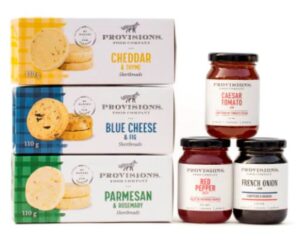 Nostalgia Wines is open Saturday, December 24th from noon to 4pm for all your last minute wine and shopping needs. Many of our artisan partners are featured in our shop regularly, as we try to support local all year long!