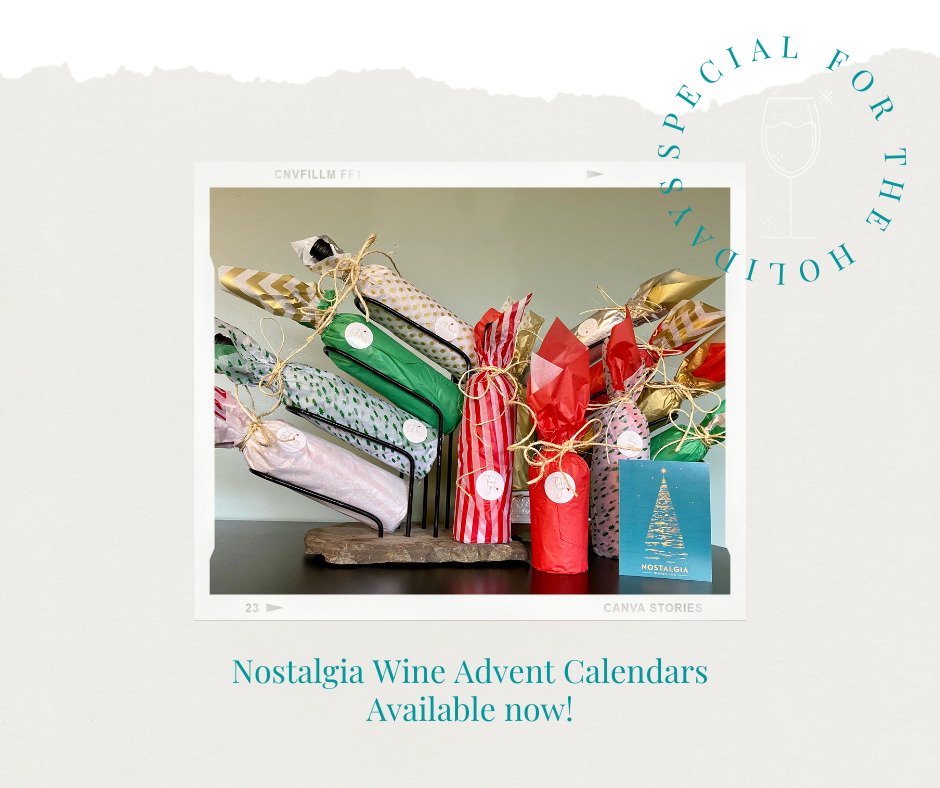 Nostalgia Wines Advent Calendars – For the Naughty or Nice!
Forget the milk and cookies this year … go for wine instead! Quick link to shop online: https://shop.nostalgiawines.ca/tags/advent-calendars/ 
Nostalgia Wines Advent Calendars are 12 giftwrapped bottles of wine (750ml), a greeting card, a gift handmade by a local artisan and other treats. There is a new surprise to discover each evening from December 13 to 24th as you unwrap a bottle each night leading up to Christmas.
Yule be delighted with the giftwrapping and the unique extras included with each bottle! We have three different offers: a mixed calendar, a chilled wine only calendar, and a red wine only calendar.
For those gifting a calendar, we are happy to personalize the greeting card with a special message from you. For all those dreaming of a wine Christmas, this makes a perfect gift to your elf.
Mixed Advent Calendar: Click to order
We've made a list and checked it twice. We've prepared the perfect Wine Advent Calendar for all those naughty and nice! The mixed calendar is our most popular, as you will enjoy an incredible mix of wine styles (white, red, rosé, sparkling) while you mingle with Kris Kringle.
This is a surprise box of 12 bottles of wine, carefully selected by our Chief Sommelier Elf. Every bottle is gift wrapped by hand, with a unique holiday surprise in addition to the wine, and tagged to be opened each day from December 13 through December 24th!
Red Wine Only Advent Calendar: Click to order
We have selected an incredible mix of favourites, plus some back vintages from our limited release cellar and winemaker's library. Some wines have been previously sold out … so this is the only way to get your hands on these delicious wines! The mix includes seven vintages from 2014 through 2022.
There are two verticals included in this amazing box of delicious surprises, so you can compare the same wine from three vintages. This is an excellent way to see how Nostalgia Wines can age, and to determine how long you might like to cellar our wines to enjoy them at their peak.
Chilled Wine Only Advent Calendar: Click to order
For our cool customers, we've prepared a surprise Wine Advent Calendar with 12 chilled wines (all 750 ml)! From December 13 to 24th, open a new bottle each day. This includes some wines that have been sold out, so you might find a forgotten favourite vintage.
There are no red wines included in this calendar, so it is perfect for those who love white wine, rosé and bubbles — stock up your fridge for holiday parties!
Orders and Delivery
Nostalgia Wines Advent Calendars are first purchased, first served and no holds can be placed without payment. The most efficient way to order is from our online store. You can also order in person (4900 Black Sage Road, Oliver BC), or by calling 250-485-0227.
Advent Calendars will be shipped no later than December 4th for arrival by December 13th. They are also available for pick up — we're open six days a week (closed Mondays) from 12-4pm.
Here's some feedback from a Wine Advent Calendar recipient: 
"I just wanted to take a moment to write and tell you how wonderful the advent calendar wines are. Not only have we been thoroughly enjoying our evenings sipping great wine but we've been enjoying the surprises included with each bottle.
"The personal touch you added makes them a real treat in our home, and we love that each bottle needs to be unwrapped and SURPRISE! Every time! We're loving it and we wanted you to know that your extra attention to incredible customer service puts you head and shoulders above the rest."