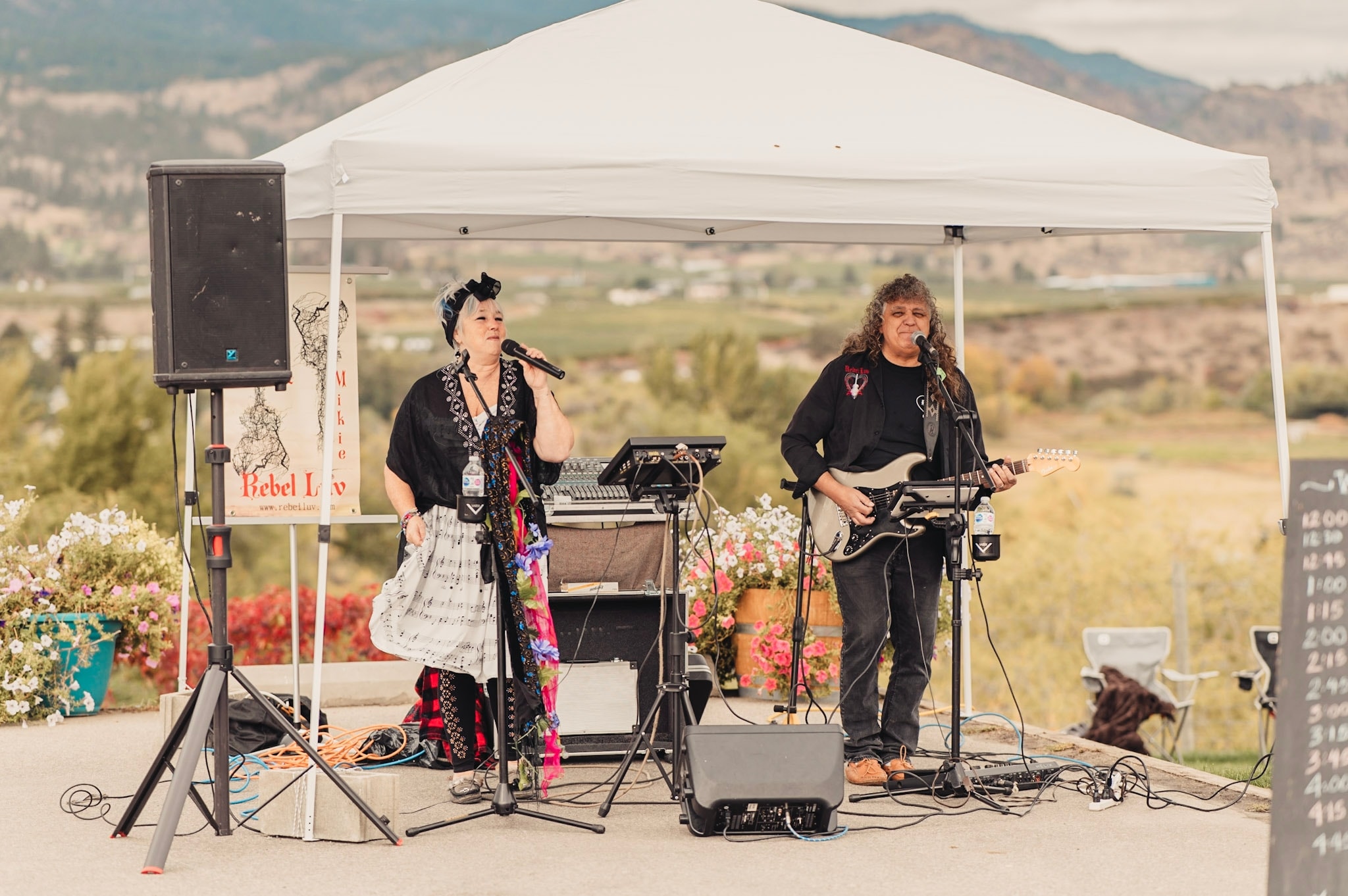 Join Us! 6th Annual Crush Party is Sunday, Oct 1, 2023
We'd like to invite you to Nostalgia Wines' 6th Annual Crush Party! Join us Sunday, October 1st at Nostalgia Wines (4900 Black Sage Road, just south of Oliver, BC) from 10am to 5:30pm for an action-packed day!
We encourage you to get into the Nostalgic spirit with our 1950s Costume Competition! We will have a prize for the best dressed and judging will be at 3pm.
We'll be hosting local rockers Rebel Luv for live music all day and spectators are welcome. Local dancers will entertain us with a performance showcase. Law of Attraction and Bo Betty's food trucks will be here, and we'll have a Nostalgia Wines and Firehall Brewing drinks garden. You can also shop ultra local in our artisan market, featuring local edibles, wearables, and crafts.
Through this event, we'll be raising money for a local rider participating in the Tour de Cure, a fundraiser for BC Cancer Foundation.
Join us October 1st to have lunch, enjoy local wine (or craft beer), listen and dance to live music, view artistic performances, shop artisan goods, and celebrate harvest, all while supporting cancer research! This action packed event will have something for everyone.
The Event in Detail:
Come As a Guest – Entry By Donation – Door Prize – Guest Parking
Entry for guests to the Crush Party is by donation to our charitable partner, with a suggested $5 per person. With your entry donation you can enter to win a door prize from Nostalgia Wines!
We will not be taking any reservations for October 1st, it will be first come, first served.
Our picnic area will be open for those who want to have a glass of wine or craft beer — there will be an outdoor bar with walk-up service. Credit/debit is available for the outdoor bar, but cash is king and will help you avoid a line up! Seating is available, and you are welcome to bring your own lawn chairs or picnic blanket, should our seating be full.
Guest parking will be in our vineyard. We will have parking attendants to guide you to a spot, keep an eye out for them!
Hot Tips – What to Bring
Cash (for entry by donation, outdoor bar, raffle tickets, etc)
Lawn chairs or a blanket to sit and listen to the band
Your 1950s fashion – costume competition at 3pm
A sweater/jacket and sunscreen – event is rain or shine!
Your children – family-friendly event
Your appetite (food trucks on site)
A designated driver
A positive attitude and best cheers for all the performers and competitors!
Meet our Charitable Partners
As a family business, we like to support causes close to our hearts.  Sadly, we have all had cancer touch our lives in one way or another. Accordingly, we will be supporting the BC Cancer Foundation, as it is raising $500 million in the most ambitious health campaign in the history of B.C. to advance cancer research and care for all British Columbians.
1950s Costume Competition – 3pm
Travel back in time with us! Search the back of the closet or call your grandparents to seek out those amazing 1950s threads. Dress in your best and take part in the fun!  The winner receives a delicious gift from Nostalgia Wines!
The competition and judging starts at 3pm. No registration is required, just be dressed and ready to impress at 3pm!
Rebel Luv
Get your dancing shoes shined up for Rebel Luv! These local rockers know how to get a crowd engaged and on their feet. Rebel Luv will play three sets to keep us dancing throughout the afternoon. Expect music at noon, 2pm and 4pm.
Food and Drinks 
We will welcome Law of Attraction and Bo Betty's food truck for the afternoon. Join us for lunch!
Nostalgia Wines will be available by the glass and bottle to enjoy in the picnic area. Want to have a Memorable Wine Experience with us? Awesome! We'll be hosting guided Memorable Wine Experiences inside. Learn more about our experiences here. Our store is open all day, we welcome you to stock up on wine for your home and make memories with us!
Craft beer will be on tap from our friends at Firehall Brewing in Oliver.
A variety of deli snack items, soft drinks and bottled water will be available for sale in our wine shop.
Please come prepared to drink responsibly and plan for a safe ride home.
Artisan Market – Open from 10:00 am
Come out to support local artists and check out their wares! The artisan market will include the following vendors:
JJ's Fine Chocolate
Bridge Lake Wood Company
Shelby & Jun
The Nova Collection
G N'R Alpaca Boutique
South Okanagan Snacks
Earth Ventures Jewellery
Vineyard Candle Studio
Tania's Art Cards & Prints
Schedule for October 1:
10am – Winery and Artisan Market Open
12:00 – Event kick off with Rebel Luv!
2:00 – Rebel Luv (Set 2)
3:00 – 1950s Costume Competition Judging
3:15 – Dance Performance by Balance School of Performing Arts
4:00 – Raffle Draws
4:05  – Rebel Luv (Set 3)
5:00 – Event wrap up
5:30 – Winery closes
Grape Stomp – Not this year…
Please note: We usually have grape stomp action at our Crush Party. But, sadly, we will not be able to host a grape stomp this year, as it takes 1000 pounds of grapes, and the winter weather earlier this year wiped out our crop and we have no grapes in our vineyard. We hope that by offering Mother Nature this celebration of harvest, community and fun that she will smile upon us for harvest in 2024.
We look forward to seeing you at Nostalgia Wines Sunday, October 1, 2023!!