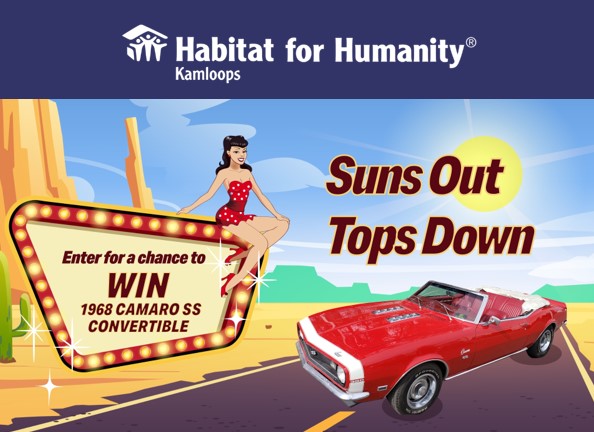 Win a 1968 Camaro SS Convertible! Pop Up Car Show Sunday, August 28, 2022
We love classic cars, working with Habitat for Humanity, and giving you a chance to hit the road this summer in a gorgeous 1968 Chevrolet Camaro SS!
Drop by Sunday, August 28th from 10 to 5:30 to see this beautiful classic car. You can buy a ticket to win it! Proceeds of this charity raffle will support Habitat for Humanity Kamloops and its mission to build attainable housing for seniors, veterans and families throughout the service area. Tickets are $25 each.
Got a classic? Bring it for a Sunday drive! We'll have owner/winemaker Gina's 1961 and 1963 Bel Airs out too. This is a casual, pop-up show 'n' shine, so no registration is necessary.
Bring your appetite! Join us for lunch with Bo Betty's food truck! She's with us for the day from 10-5:30 (or until she sells out).
Here is more info about your future, sexy vehicle:
Refurbished 1968 Chevrolet Camaro SS Convertible
Automatic light weight transmission
Engine: 350
Exterior color: Red
Interior colour: Red
Convertible top colour: white
Odometer: 3164.5 miles
Estimated value: $75,438.85
We look forward to seeing you then!